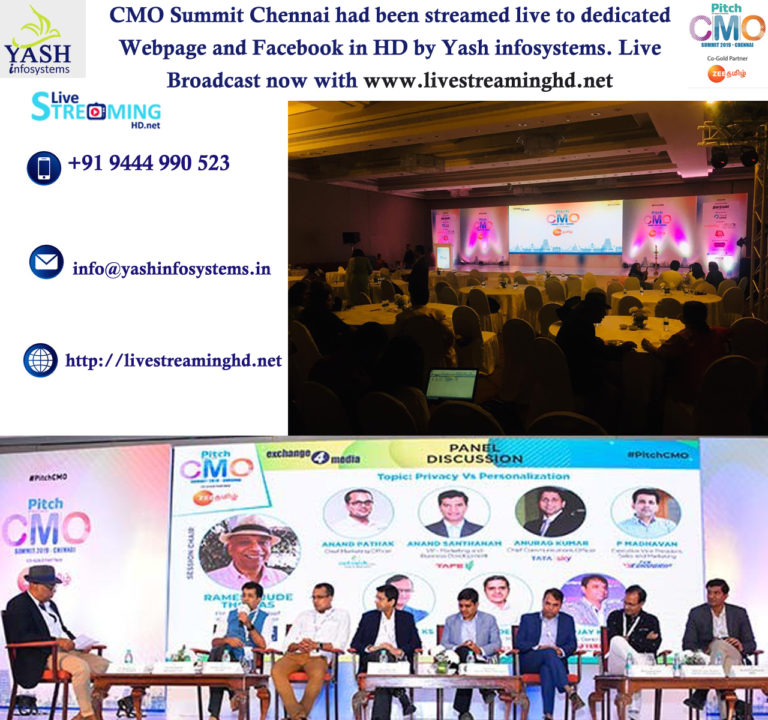 About CMO SUMMIT CHENNAI
The Pitch CMO Summit Chennai held on Friday that is on 04th October, 2019 in Taj Coromandel, Chennai saw a gathering of the top minds in the business of marketing engage in interesting sessions, discussions, and debates designed around its core theme – 'Building A Personalized Connect'.
While the special address was delivered by CVL Srinivas, Country Manager, India, WPP, on 'Getting Personalization Right', the valedictory address was delivered by Mathew Chandy, MD, Duroflex, on 'The Power of Personalization'.
LiveStreaming HD
Yash Infosystems provide HD Live Streaming solution for CMO SUMMIT Chennai. We provided HD Live Streaming for Facebook Live, Dedicated Webcasting link for our prestigious media client. Our Streaming service is so quick and easy to setup. Each resolution of live webcasting is recorded by the Content Delivery Network(CDN).
Livestreaminghd.net brought to you by Yash Infosystems as a turnkey streaming solution wherein we provide Camera, Encoder, Software , Internet and dedicated Server to stream your event anywhere in the world.
We provide mobile responsive cloud streaming services in Bangalore, Chennai, Hyderabad, Mumbai, Delhi, Pune, Chandigarh etc in India and other parts of the world like Paris, Germany, Singapore, Malaysia etc.
Connect us now for easy to setup and cost effective livestreaming solutions for Medical , Corporate , Sports or any other Events.