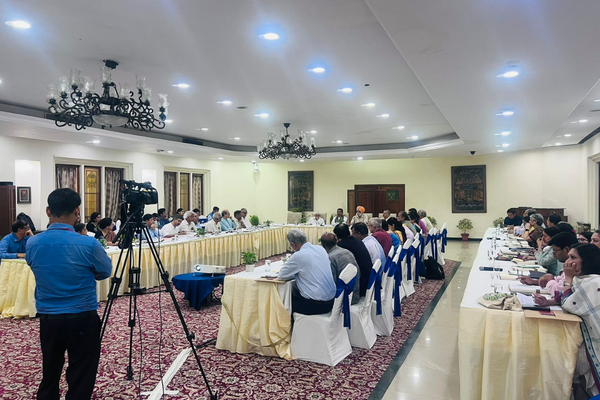 NCERT Event – Audio Visual Rental & Web Conferencing Services
Audio Visual Rental & Web conferencing services:
Government Events

NCERT

August 23, 2023
NCERT Event:
National Council of Educational Research and Training (NCERT) has unveiled its 19-member National Syllabus and Teaching Learning Material Committee (NSTC), featuring a mix of luminaries to finalize the curriculum, textbooks, and learning materials for classes 3 to 12 . Infosys Foundation Chairman Sudha Murthy, renowned music virtuoso Shankar Mahadevan, and esteemed economist Sanjeev Sanyal are among the individuals selected to spearhead the overhaul of textbooks in accordance with the new curriculum.
HD Live Streaming Provided
Audio Visual Rental & Web conferencing services:
Yash has provided the AV solution which includes Speaker, Audio Mixer, HD Video Camera, 55″ TV display & Laptops. We have installed and tested 20 Table top speaker for each member along with the 24 channel audio mixer, coupled with a 55" TV Display on a sturdy stand, completed the setup with essential HDMI cables, for vivid visual presentations. Our services also encompass the use of an HD Video Camera Sony NX200 accompanied by a skilled Cameraman, and facilitated by an HD Video Capture Card for pristine video quality.  We have facilitated the web conferencing environment with honorable minister and renowned personalities Sudha Muruthy and Shankar Mahadevan. Key component of success was testing all equipment in advance, bringing spare equipment's and sending on-site representatives for the event who were experts in the technology.  Event was huge success and client was grateful with our services and promised for future collaboration.