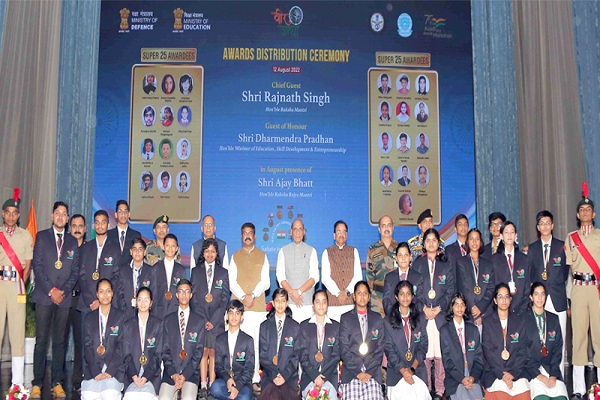 Awards Distribution Ceremony of Super 25 winners of Veergatha Event – YouTube Live streaming & AV setup
YouTube Live streaming & AV setup
Government Events

Veergatha Event

August 28, 2022
Award Distribution Ceremony
On the eve of the 74th Republic Day, Defense Minister Rajnath Singh and Union Education Minister Dharmendra Pradhan felicitated 25 winners of Veer Gatha 2.0 at an event in New Delhi. Shri Rajnath Singh gave away the winners a cash prize of Rs 10,000, a medal and a certificate, in the presence of Minister of Education Shri Dharmendra Pradhan and Raksha Rajya Mantri Shri Ajay Bhatt. Shri Dharmendra Pradhan called for integrating the stories of gallantry award winners in the school curriculum to inspire students.
YouTube Live streaming & AV setup:
Yash Infosystems team was responsible for YouTube live streaming and Video Production setup for Award ceremony. Our team of AV  technicians and project manager was available in the venue to capture the entire show and video production team embedded the creative for Live streaming of the award ceremony event at YouTube. Our setup included laptops, video production unit and live streaming encoders , Audio and Bandwidth was arranged by the MOD team. Our team has embedded the audio and video out from the Video mixer used in streaming and reserved all the footages. Client's Words: An energetic team with good management and support throughout the event.